Shop Chevy Silverado Medium Duty Inventory
You've waited, and they're here! The new Silverado Medium Duty 4500, 5500 and 6500 models are available at Randy Marion Chevrolet in Mooresville, NC. The new medium duty models are better than ever! With all the flexibility, capability and durability GM has engineered into the Silverado, along with the proven power of Allison transmissions and the Duramax diesel engine, we have a medium duty truck line that will appeal to a variety of commercial customers. Speak to one of our Randy Marion Commercial Specialists today to get more information.

Both Heavy Duty and Medium Duty Silverado models are expected to receive a refresh for 2024, including new front and rear end designs, a new interior, along with potential powertrain updates. Originally scheduled for 2023, due to COVID-19, the product cycle has been delayed. Keep up to date with our Commercial team to hear more news!
Features:
A factory-painted frame with one-piece frame rails, smooth, unobstructed top sections, and through-the-frame fuel fill lines.
Seven Cab-to-Axle (CA) options ranging from 60 to 162-inches, along with five unique axle-to-back-of-frame (AF) lengths sized in 8-inch increments.
A lightweight, front-hinged "clamshell" hood that, combined with a 50-degree wheel cut, allows easy "walk up" access to under-hood components.
A precisely crafted and contoured hood optimizes the driver's perspective of the road. Maneuverability is excellent thanks to up to 50-degree wheel cuts.
An available, factory-installed rear air suspension, not on Ford and Ram; triple-sealed, inset doors to help reduce wind and road noise; huck bolts used throughout the frame for superior clamping force.
The DEF tank is conveniently located on the passenger side of the truck – the opposite side of the fuel fill.
The Silverado Medium Duty will be available in 2WD and 4WD and will be powered by a 6.6-liter Duramax diesel engine with 350 horsepower and 700 lb.-ft. of torque and Allison transmissions with a Power Take Off (PTO) option.
The Silverado Medium Duty will also be the most connected commercial truck available, thanks to options that include OnStar and Commercial Link, a built-in 4GLTE Wi-Fi hotspot (paid data plan required), wireless cellphone charging, Bluetooth and support for Apple CarPlay and Android Auto.
---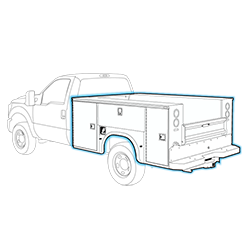 MULTIPLE UPFIT OPTIONS
6.6L DURAMAX DIESEL + ALLISON TRANSMISSION
UP TO 50 DEGREE WHEEL CUT
MULTIPLE WHEELBASE OPTIONS
---
2021 4500HD
GVWR

14,001-16,500 lbs.

Cab

Regular Cab/Crew Cab

Wheelbase

141"-243"/175"-235"

MSRP

Starting at $49,300
2021 5500HD
GVWR

17,500-19,500 lbs.

Cab

Regular Cab/Crew Cab

Wheelbase

141"-243"/175"-235"

MSRP

Starting at $50,400
2021 6500HD
GVWR

21,500-23,500 lbs.

Cab

Regular Cab/Crew Cab

Wheelbase

141"-243"/175"-235"

MSRP

Starting at $55,565
2020 4500HD
GVWR

14,001-16,500 lbs.

Cab

Regular Cab/Crew Cab

Wheelbase

141"-243"/175"-235"

MSRP

Starting at $48,200
2020 5500HD
GVWR

17,500-19,500 lbs.

Cab

Regular Cab/Crew Cab

Wheelbase

141"-243"/175"-235"

MSRP

Starting at $49,300
2020 6500HD
GVWR

21,500-23,500 lbs.

Cab

Regular Cab/Crew Cab

Wheelbase

141"-243"/175"-235"

MSRP

Starting at $54,465
2019 4500HD
GVWR

15,000-16,500 lbs.

Cab

Regular Cab/Crew Cab

Wheelbase

141"-243"/175"-235"

MSRP

Starting at $46,970
2019 5500HD
GVWR

17,500-19,500 lbs.

Cab

Regular Cab/Crew Cab

Wheelbase

141"-243"/175"-235"

MSRP

Starting at $48,070
2019 6500HD
GVWR

21,500-23,500 lbs.

Cab

Regular Cab/Crew Cab

Wheelbase

141"-243"/175"-235"

MSRP

Starting at $51,995